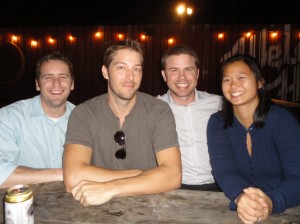 My trip to Austin wouldn't have been possible without Terri's help.  JetBlue would have gotten me there and I'm sure I could have found my way around and figured out something to do on my own, but thanks to Terri I had a fantastic trip!  As you all know, social media has played a HUGE role in my journey and wouldn't have been possible without it.  
Well, it would have been possible, but wouldn't have been nearly as effective.  Social media has made the world smaller.  It's given all of us a voice and a way to connect with people around the world.  People that we'd never have the chance to meet otherwise.  All you have to do is be able to go to a public library and use a computer.  Social media is the 2nd 'internet revolution'.  The internet gives us access to unlimited information; social media gives us access to an unlimited number of people.  It's also how Terri found out about the 29 Days Until 29 journey.
Terri works for a company called Razorfish, which helps companies build great brands and engaging experiences for consumers anywhere in the digital world.  As a result, social media is obviously a huge part of what they do.  Terri asked me to come and speak to some of her co-workers about my experiences during the 29 Days Until 29 journey and the roll that social media has played.  She was a great hostess and introduced me to a new culinary trend (which sort of exists in CVille); trailer parks of food.  Think permanently parked food trucks that serve up deliciousness.  I had the best tacos that I've ever had courtesy of 1 of the trailer parks in Austin.
Anyways, back to social media and how it's helped turn the negative connections that we all share because of cancer into positive ones.  Thru out this journey I've used this blog, Facebook, Twitter, and FourSquare to gain support for the journey, raise awareness, pick up suggestions on places to visit, found places to stay, and made some great connections and new friends.  Social media has given me a forum to talk about cancer, it's indiscriminate nature, and the fact that we all share a 'cancer connection'.
Why does any of that matter?  Because I want everyone to know that they aren't alone.  I struggled for years to talk about losing my mom.  I always felt like I had to deal with it on my own.  I figured that everyone has their own crosses to bear, why should I go burdening others with my problems?  It's been on this trip that I've realized just how selfish of me it has been to have that mentality.  The fact is that we need to help each other.  We need to be there for one another.  We need to share our experiences so that others can learn from us.
That's not to say that we need to go telling everyone everything.  PLEASE don't take it to mean that!  What it means is that if you're dealing with something there's a good chance that someone else out there in the world has dealt with a similar situation, so there is no need for you to 'go it alone'.  Social media makes those connections even easier to find.
The moral of the story?  You can be the strongest person (either emotionally or physically) in the world, but you can always use someone else to help you out.  Don't be afraid to ask for that or to seek it out.  Use the tools at your disposal to find the outlet that you need.  Don't do what I did, don't hold something in for years because you're afraid of burdening other people.  Trust me, if you're crossing the line your friends will let you know.
Oh, and go get a taco from a trailer park in Austin.
(Side note: as I finished writing this post I was reminded of the Grey's Anatomy episode <yes, I did just say that, feel free to make fun of me> about the guy with the missing face and his orchid club.  Those of you that follow the show will know EXACTLY what I'm talking about.  Those that don't, well, I suggest that you get it on Netflix, I think it's from last season.)